Friends of Israel's Environment (FIE) and the Adam Teva V'Din/Israel Union of Environmental Defense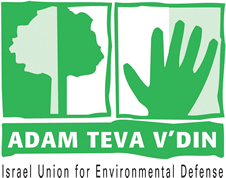 We are a 501 (c) (3) not-for-profit organization dedicated to supporting the progressive environmental protection agenda of Adam Teva V'Din, the Israel Union for Environmental Defense (IUED). Through close coordination with IUED, we engage in funding raising efforts, outreach and raising awareness of IUED's activities and mission. Read more about us on IUED's webpage
Founded in 1990, IUED is a membership-based organization dedicated to improving environmental protection in Israel for the 21st century. Its staff of 27 includes lawyers, scientists specializing in air and water quality concerns, a solid waste management specialist, a landscape architect/planner, an environmental economist and university student interns in a variety of disciplines.
IUED's Mission of Environmental Protection and Advocacy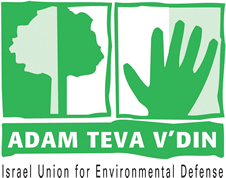 Israel Union for Environmental Defense is Israel's leading environmental advocacy organization. Known in Israel by its Hebrew name, Adam Teva v'Din, IUED has expertise in law, science, planning and economics. It brings effective advocacy, rigorous analysis and credibility to the daunting environmental challenges facing a small nation that has been overwhelmed by rapid and often poorly planned growth. Current key targets include: air pollution from power plants, industry and Israel's rapidly growing car fleet, industrial and municipal sewage contamination of the country's dwindling freshwater resources, destruction of the coastline by unplanned development and the anticipated ravages of global warming. Please see the sidebar or read more here.